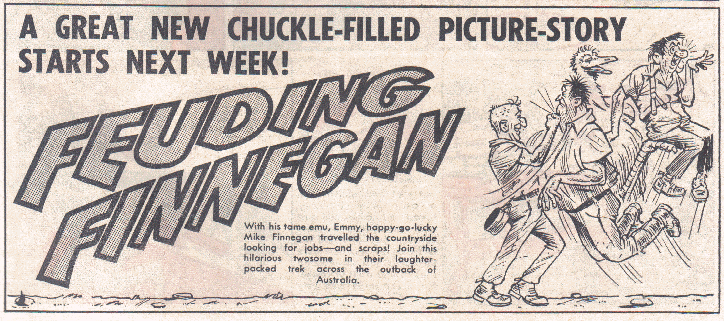 A strip from The Victor
See The Victor first series 551 - 560?; second series 590 - 601; S1972; 1973.
Writer:- The Victor editorial team. Artist:- C.D. Bagnall.
Main cast:- Mike Finnegan, Emmy, his tame Emu.
Time period:- late 1960, early 1970's.
This was a strip I enjoyed, which follows the adventures of the easy going, casual worker Mike Finnegan and his tame emu, Emmy roaming the outback of a 1960's Australia. The title suggests that Finnegan was always on the lookout for a good scrap, but in fact he and Emmy only resorted to fisticuffs (or beakycuffs in Emmy's case) when provoked. Usually pompous or rude, rough characters who got up Mike's nose.
Bagnall, the artist is in his element here providing some great humorous artwork. As the story is set Down Under, the writer(s) have come up with some great expressions which you probably wouldn't find an Aussie saying. For example, Stone me Wallabies.
A few Australian slang words are peppered thoughout the episodes in this series and for those readers who may not be familiar with these words can find a definition of them below. (Please note this is not a complete listing, only the words I have noticed).
billabong - an area of water which has been cut off from the main river.
bingle - a car accident.
cobber - companion, friend.
drongo - a slang word for a stupid person.
Fair Dinkum - is that right (or words to that effect).
Galah - another slang word for a fool or silly person. Named after a bird with the same name.
Tucker - food.
A few facts about Emu birds
The Emu is the largest bird native to Australia and is the second-largest extant bird in the world by height, after its ratite relative, the ostrich. The Emu, (there are three subspecies) is common over most of mainland Australia , although it avoids heavily populated areas, dense forest, and arid areas.
The soft-feathered, brown, flightless birds reach up to 2 metres (6 ft. 6 in.) in height. They have long thin necks and legs and can travel great distances at a fast, economical trot and, if necessary, can sprint at 50 km/h (31 mph) for some distance at a time. Their long legs allow them to take strides of up to 275 centimetres (9ft. 02 in.). Their legs are among the strongest of any animals, allowing them to rip metal wire fences. They are opportunistically nomadic and may travel long distances to find food; they feed on a variety of plants and insects, but have been known to go weeks without food. Emus ingest stones, glass shards and bits of metal to grind food in the digestive system. They drink infrequently, but take in copious fluids when the opportunity arises. Emus will sit in water and are also able to swim. They are curious birds who are known to follow and watch other animals and humans. Emus do not sleep continuously at night but in several short stints sitting down.
Emus use their strongly clawed feet as a defence mechanism and are used when fighting against Dingos (a wild dog). If attacked from the air by Eagles or hawks, an Emuís only defense is running and swerving. They are endowed with good eyesight and hearing, which allows them to detect predators in the vicinity.
The plumage varies regionally, matching the surrounding environment and improving its camouflage. The feather structure prevents heat from flowing into the skin, permitting Emus to be active during the midday heat. They can tolerate a wide range of temperatures and thermoregulate effectively. Males and females are hard to distinguish visually, but can be differentiated by the types of loud sounds they emit by manipulating an inflatable neck sac. Emus breed in May and June and are not monogamous; fighting among females for a mate is common. Females can mate several times and lay several batches of eggs in one season. The animals put on weight before the breeding season, and the male does most of the incubation, losing significant weight during this time as he does not eat. The eggs hatch after around eight weeks, and the young are nurtured by their fathers. They reach full size after around six months, but can remain with their family until the next breeding season half a year later. Emus can live between 10 and 20 years in the wild and are predated by dingos, eagles and hawks.
The Emu is an important cultural icon of Australia . It appears on the coat of arms, various coins, features prominently in Indigenous Australian mythology, and hundreds of places are named after the bird.
The following adventures of Mike Finnegan and his emu Emmy, are from issues 551, 553, 556, 600, 601 and the 1973 annual.

text &copy Adrian Banfield, 2012.